So I was about 2/3 of the way through a post about this past weekend, and WordPress freaking ATE IT and I'm not exactly thrilled about that. So you'll have to pardon me if this runs a little less chatty than the original version. I'll try to make it up to you with pictures. Everyone likes pictures, right?
RIGHT.
So. The event at the Fox Tale Book Shoppe was a delight! It was magnificent to see Delilah and Kevin again, of course; and I was happy to meet Molly Harper – who actually hails from Kentucky, so we had plenty of gabbing to do. Maybe one day we'll collide at an event in the Bluegrass State, eh?
Anyway – pictures! Bear in mind that we are SERIOUS PROFESSIONALS, GODDAMMIT. See?
Serious. Professionals.
Serious….professionals.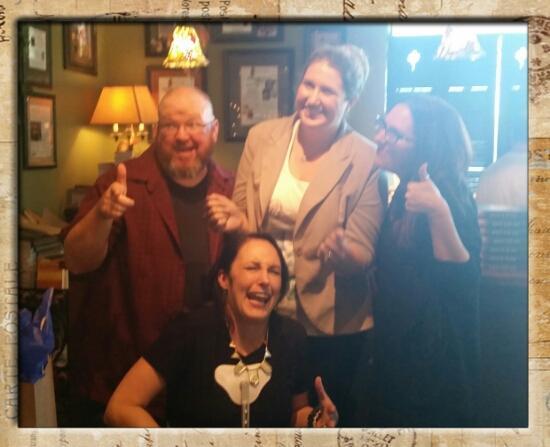 You heard me.


AT ANY RATE. If you'd like to see a few more shots, all EQUALLY PROFESSIONAL AND SANE, then you can click over to the book shoppe's FB page and gawk at the monkeys in the zoo. By which I mean … us.
After the event, we got tacos with Delilah and her family – then Kevin came back to Chattanooga with me and my husband. Tourist-times ensued! We ate at many awesome places (bbq, burgers, pizza, etc.), kicked around a few historic sites, jaunted through a foggy cemetery, and swung by The Book Rack for Kevin to sign some books.
Also, there were dogs. Check out Kevin's Twitter feed for the full scoop (I was usually driving, so he took all the pics) … or scroll down for a few highlights.


And that about sums it up :)
But now Kevin's headed back to Colorado, I'm doing laundry, and normal life has resumed. I'm grateful and happy that the last few days occurred, for I was truly getting into a rut – and now, having had a couple of days to chat with writer friends and get out of the office, I'm ready to get back to work.
More or less.
So in closing, lots of love to everyone who joined us at the Fox Tale, and to Delilah and Molly, and to Kevin (who is a most excellent guest). But the dryer just buzzed at me, and the dog needs a walk, and I'll need to make myself some supper soon (or maybe just a drink). Have an excellent evening, y'all – and I'll be back with word metrics tomorrow.
I bet.